What is a biomass boiler?
If you're concerned about the overall environmental impact your home has, you may already have started investigating alternative ways to develop the power and heat required to keep you and your family comfortable. If your home is suited for it, you could generate plenty of affordable, environmentally-friendly heat by using a biomass boiler.
What Biomass Boilers Do
Unpacking the name "biomass boiler" (also known as log boilers or woodchip boilers) tells you a lot about what this device does. As the "boiler" half of the title suggests, this is a piece of equipment designed to heat water. That means that biomass boilers are suited for generating hot water and powering whole-home heating systems where water is the heat-transfer element (i.e. those with radiators and/or radiant floors). Biomass is the fuel these boilers run on, which is typically industrial and agricultural waste.
Biomass is environmentally friendly based on its reuse of material that would otherwise go to waste and its nearly carbon-neutral output. While burning biomass does generate carbon dioxide, it is merely returning the same gas to the atmosphere that was captured when the plants making up the biomass were alive. Biomass boilers don't generate nearly as many airborne pollutants as gas boilers, (or electrical boilers powered by coal power plants) but they're still not entirely clean.
Advantages Of A Modern Boiler
While a basic wooden stove counts as a biomass heating system, modern boilers are considerably more refined and efficient. A good boiler can be very intelligent and fully automatic, feeding itself fuel as needed and adjusting its burn rate to maximize efficiency. If you install a modern unit that uses biomass to produce heat you'll find it to be practically maintenance-free; your only responsibilities are keeping the fuel store topped up and removing ashes from time to time. (These can be recycled into your compost pile to create rich, productive soil.)
While installing a biomass heating system can be an expensive proposition -- especially if your home isn't already set up for water or steam heating -- it's often possible to shield yourself from some of the high upfront costs by taking advantage of incentive programs. Many governments offer rebates on biomass equipment or tax breaks for homes that use biomass for heating. Once a biomass system is up and running, it's quite economical. Biomass heating costs less than using locally-stored gas or heating oil or relying entirely on electricity. It's not quite as affordable as using a municipal gas connection, though.
Requirements For Using A Biomass Heating System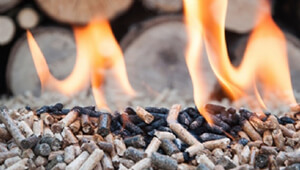 If biomass heating is starting to sound tempting to you, there are a few important requirements to look for before you start shopping for a boiler! First, you have to bear in mind that biomass is not as energy-dense as fossil fuels like oil, natural gas, or coal. That translates into greater space requirements both in terms of fuel storage and for the boiler itself. Many manufacturers recommend using a fuel store large enough to hold a full year's supply of biomass, and this can be bulky. Biomass fuel also needs to kept very dry (ideally less than 8% moisture) for maximum efficiency.
While modern heating equipment is designed to maximize your safety, you need to keep in mind that there are inescapable risks involved with any heating system. Protecting yourself from the danger of carbon monoxide poisoning is especially important when you convert your home to biofuel, and you'll need to install a full set of reliable detectors.
If you're looking for an affordable low-impact solution to your home heating problems, a biomass boiler just might be the answer! You'll have to assess your situation carefully and learn quite a bit about these boilers before making a final decision, but it's definitely an option that's worth considering.